Simpleview recently made updates to the DAM. These will be available on Tuesday, June 22, 2021, in North and South America, Europe and Africa. Customers in Australia and Asia should see the changes on Wednesday, June 23, 2021.
New Features and Enhancements
Notifications: New Look and Features
The DAM Notifications page has an updated look and some new features.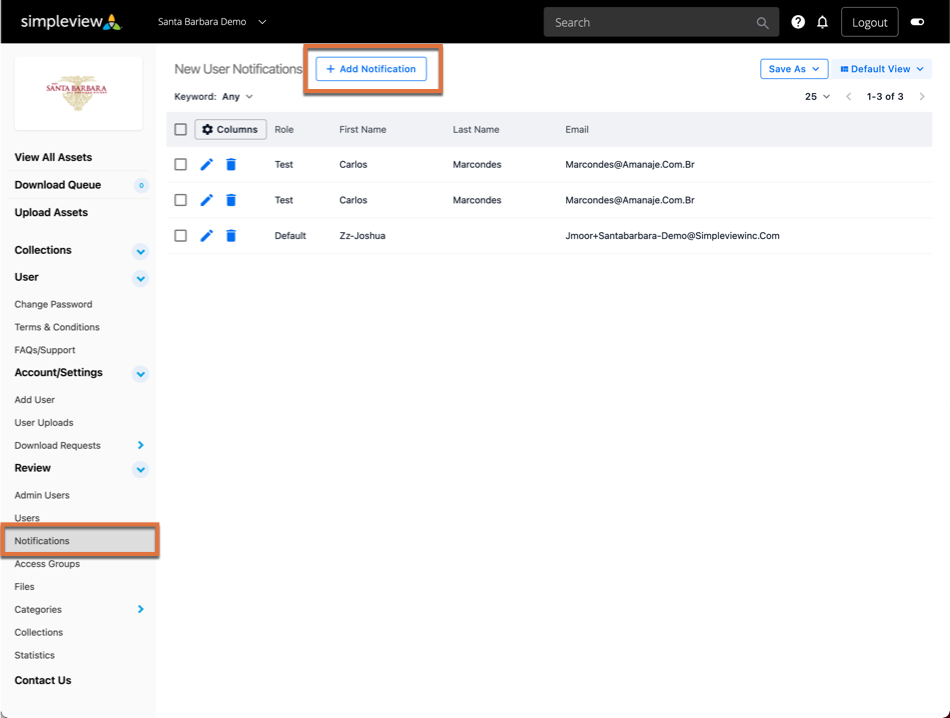 Within the Top Navigation, a new + Add Notification button. This provides the ability for creation of User Notification messages. Messages appear based on the user and role selected in the next screen.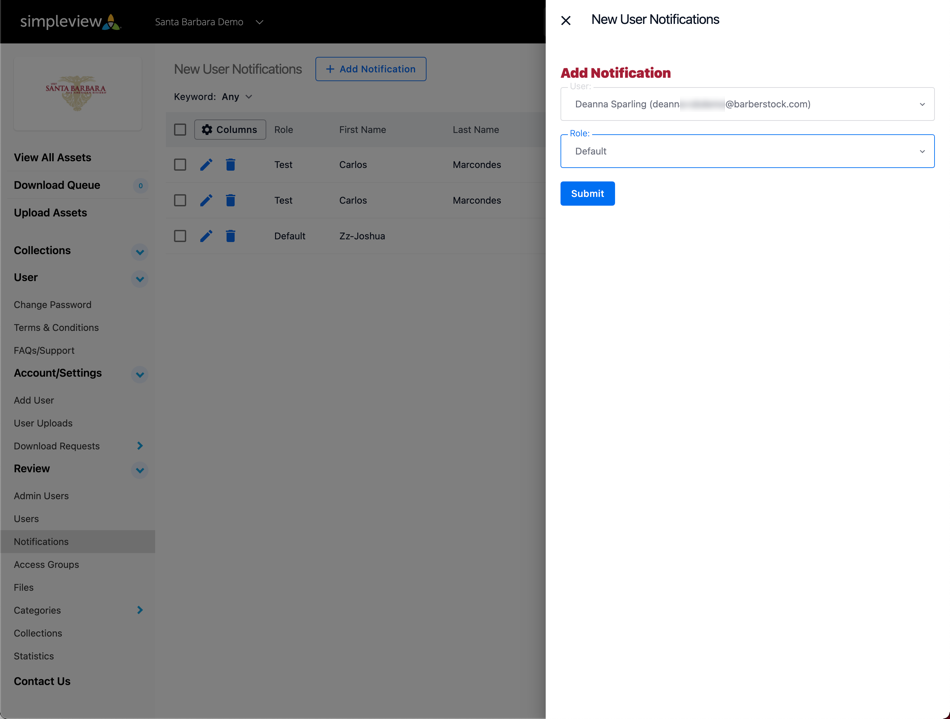 Similar to other updated pages in the DAM, users may adjust the 'New User Notifications' default columns using the 'Columns' settings button. Based on the desired workflow, adjust the order of each column, in addition to limiting the information shown.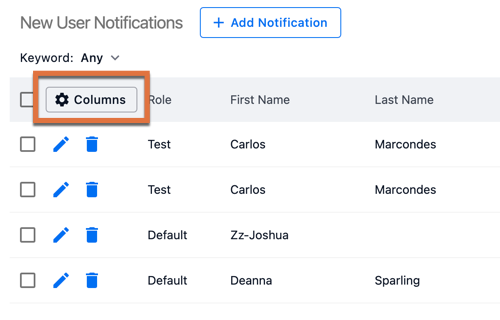 Other updates include action buttons on each Notification.

Click the Pencil Icon to edit a record.

Click the Trashcan Icon to delete a record.
Use the checkbox to select 1 or more notifications for deletion in bulk.
Click Here for a Demonstration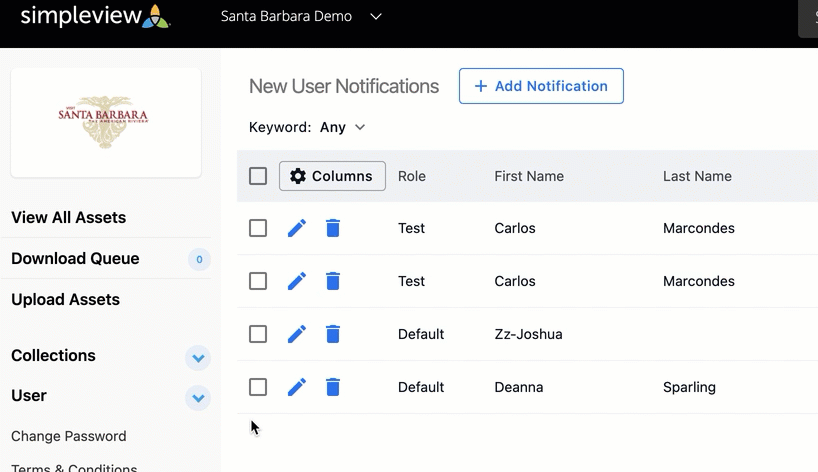 Collections: New Look and Features
Management of asset collections is now available to DAM Admins within the updated Collections page. We added filters for Active/Inactive collections as well as a keyword search for finding exactly what you need.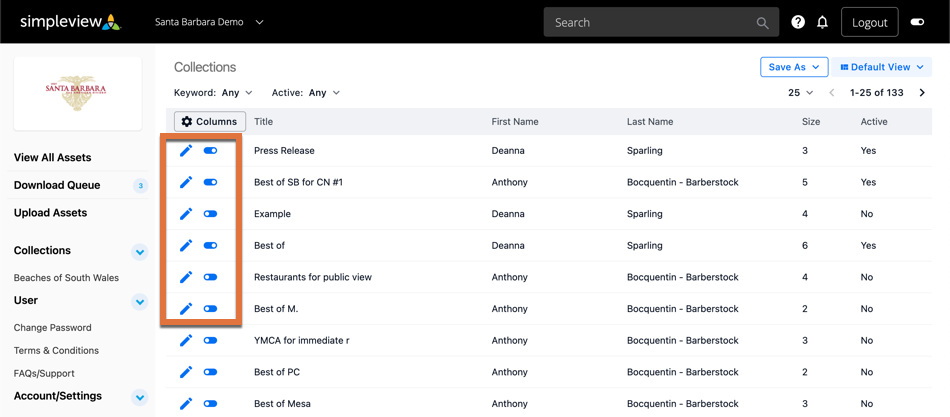 Use the pencil

icon for editing a collection and the slider

for activation or deactivation of a collection.

A left slider indicates an inactive Collection.

A right slider indicates an active Collection.
Add and remove columns within your Collections, as well adjust the order of each, by using the Columns button.
Click Here for a Demonstration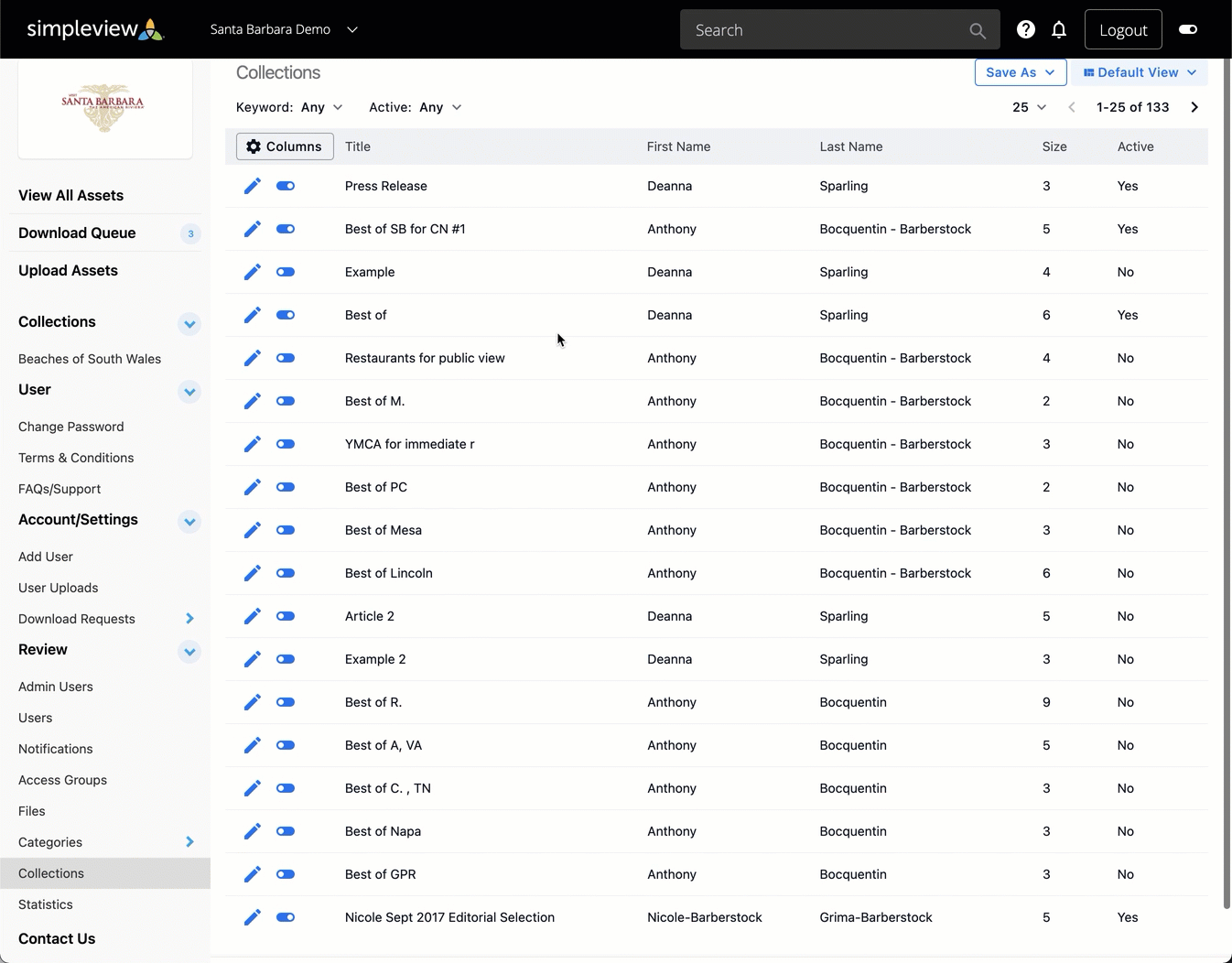 The Collections grid now provides a search functionality based on Keywords. Additionally, filtering by Active status is available.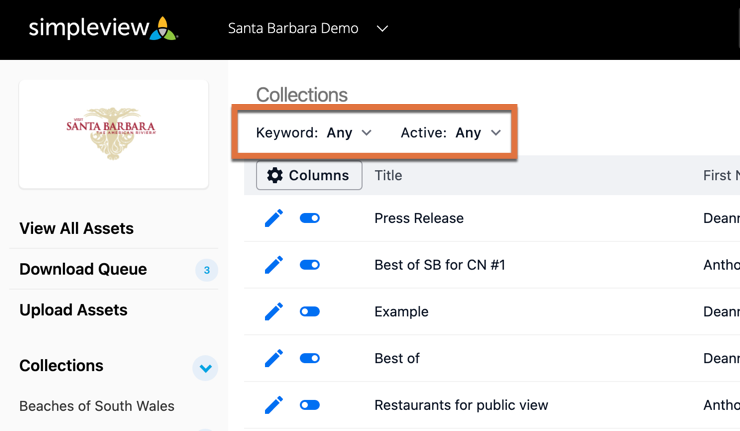 Files Page: Activate/Deactivate Actions Updated
Similar to other grids within the Simpleview DAM, the activate/deactivate slider was added to the Files page.

Text Tweak
We removed 'Beta' from the Batch Enter Metadata Form. Additionally, within the header 'Knowledge Base' was updated to 'Knowledgebase'.
Goodbye, Flash. Hello, Vimeo
With the retirement of Adobe Flash Player, we have implemented the use of Vimeo in the instances where we previously offered Flash.
Resolved Issues
We resolved instances where broken thumbnails were displayed in public collections.
Access groups were sticky in certain edge cases. This has been rectified.
The default thumb icon preview was appearing much too large and has been reduced for consistency with regular previews.
Inactive documents were shown as available for selection in the Linked Documents modal. This has been corrected.
Learn Simpleview DAM
Discover new and updated educational material since our last SimpleFeed.
Knowledge Resources