Simpleview recently made updates to the DAM. These are available on Tuesday, September 14, 2021, in North and South America, Europe, and Africa. These will be available to all other customers on Wednesday, September 15, 2021.
Resolved Issues
Improved the stability of the Download All button, including increasing performance when downloading large numbers of assets.
Deleted users will no longer display on any of the Simpleview DAM pages.
The Sort Order on the Access Groups dataview has been corrected. Previously, if the user sorted by Name or Description fields, it was possible under certain circumstances for empty fields to appear at the top and bottom of the list. This will no longer be the case as all empty or null values are now sorted together.
An issue with the User Type filter on the Users and Admin Users pages has been fixed. Previously, administrators could clear an applied filter and view all users in their platform. The fix ensures that only the correct types of users are shown on the Users and Admin Users pages.
Learn More
Coming Soon: Left Navigation Updates!
As part of the continual improvement to the DAM UI, we will soon be releasing a new and improved left navigation.
Click Here for a Demonstration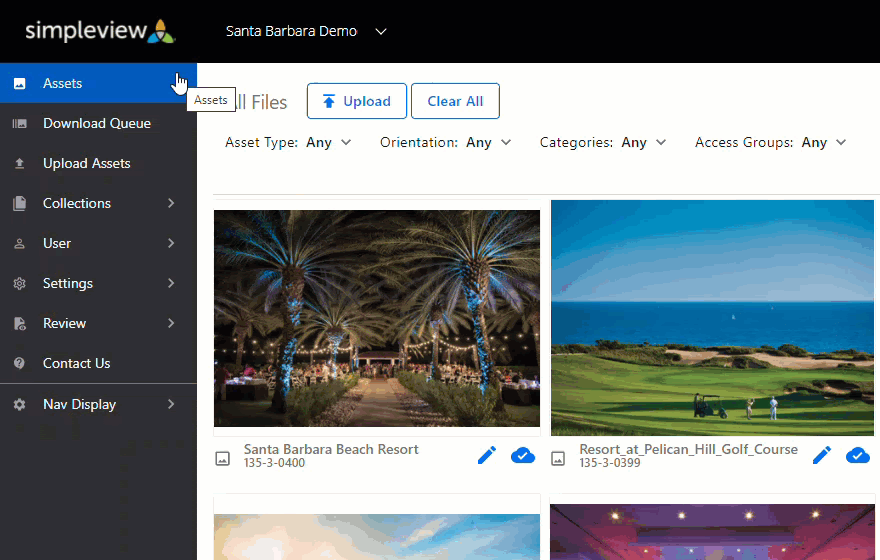 Note:
Users still have the ability to switch back to the legacy UI if they prefer. This can be done by using the UI Toggle located in the Header. Additionally, please note the left nav is still in development and the design and options shown are subject to change.
Learn Simpleview DAM
Discover new and updated educational material below: