Simpleview recently made updates to the Simpleview DAM. These will be available on Tuesday, October 26, 2021, in North and South America, Europe and Africa. Customers in Australia and Asia should see the changes on Wednesday, October 27, 2021.
New Features and Enhancements
Review each product change highlighted below.
Language Selector Added to User Options
Any platform supporting more than one language will now have a language selector feature. 'Select Language' appears within the User Options dropdown menu, allowing users to change between language preferences.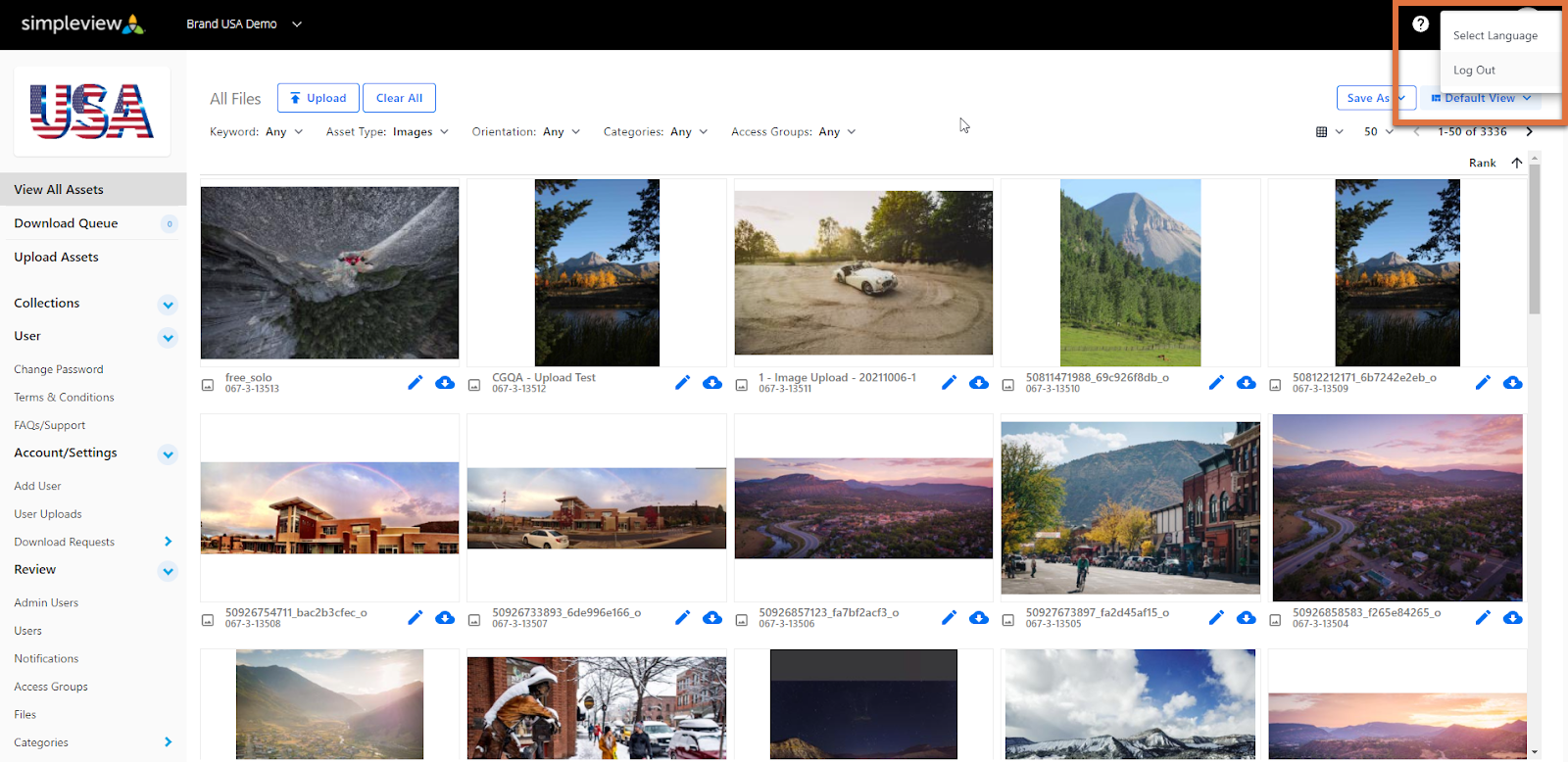 Updated Uploader Error Message
When trying to upload an asset larger than the maximum file size, the error message will now say "File too large - 500MB maximum" instead of "File too large - 300MB maximum". The maximum file size had previously been increased, and the error message has been updated to reflect this change.
Updated Branding in Legacy Footer
The footer in the Traditional user interface has been updated for branding consistency and now displays the Simpleview logo.
Changed Default Sort Order for Collections
Within the Collections section under Review, we have changed the default sort order. Collections are now sorted from newest to oldest by ID number when the page is first accessed. Previously, these were being sorted from oldest to newest by default.
Resolved Issues
In the User Uploads section of Account/Settings, the Edit, Approve, and Decline Asset buttons under Columns will now only be available only when the upload status is "Pending." Previously, if the Status Column was hidden from display, uploads that had been Approved or Declined would also show these options.
When editing video or audio files, changing the Download Request option will now save the changes. This also works when bulk editing assets with at least one video or audio file included in the bulk edit. Previously, changing this option would not save.
Learn Simpleview DAM
Discover new and updated educational material since our last SimpleFeed.