Simpleview recently made updates to the Simpleview DAM. On Tuesday, January 18, 2022, these will be available in North and South America, Europe and Africa. Customers in Australia and Asia should see the changes on Wednesday, January 19, 2022.
New Features and Enhancements
Review each product change highlighted below.
FAQs/Support option moved to User Resources
The FAQs/Support option has been moved to the User Resources. This option was originally accessible from the User Menu on the Left Navigation, which has been removed.
Click Here for a Demonstration

Subsections have been added to Categories for easier navigation
We have changed the way Asset Categories are accessed. Rather than clicking Categories under the Review section to see category types, four subcategories for Images, Videos, Audio, and Documents & Logos have been added.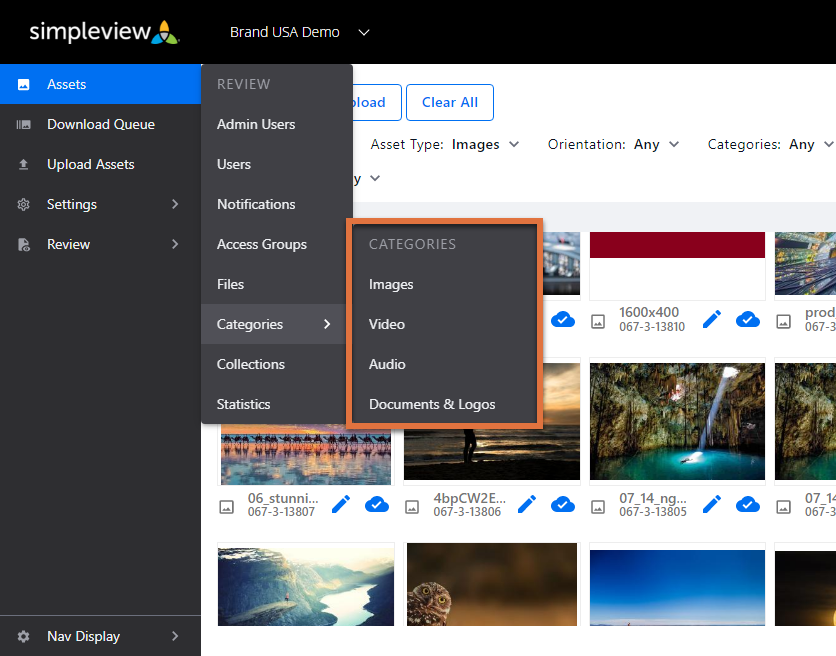 Reduced load times within Legacy UI
The load times on our legacy 'View All Assets' page have been improved.
Resolved Issues
All video previews supplied by Vimeo will now load properly.
The legacy view was improved to limit the User Resources covering text and the language selector contained within the page footer.
The Files grid will now load and display correctly, regardless of the applied sort order or view. There was previously a bug causing the grid to continuously refresh under some circumstances.
The 'Saved Views' on the Assets page will now display only one default view option. There was previously a bug causing two options to appear within the Saved Views menu.
Once a user account is deleted, or set to inactive for a certain period of time, the applicable user will no longer be able to log into the Simpleview DAM.
We have removed the Simpleview DAM System Alert that pops up when new users log in for the first time.
Scrolling within a pop-up menu and throughout the rest of the site will now function as expected. There was previously an issue causing users to scroll outside a pop-up menu in some areas of the site.
Navigation display preference (Full, Icons Only, Hidden) will transfer over to other Simpleview DAM platforms. This removes the requirement of a user having to manually change preferences in each DAM instance for which they have access.
The Terms and Conditions page now displays the current user platform's domain URL instead of the generic simpleview.com URL.
A pop-up with the message "The collection is currently inactive" will display when a user attempts to edit an inactive collection.
The Notifications grid accessed from the Review menu now only displays users with active user roles.
Learn Simpleview DAM
Discover new and updated educational material since our last SimpleFeed.
Knowledge Resources
Webinar:
Have follow-up questions?