The CRM Lead Integration provides the ability to import data associated with a Simpleview CRM Lead into your SendSites pages (Proposals).
Once your SendSites platform is integrated with Simpleview CRM, an "Insert Simpleview Account Tag" icon displays.
The feature appears within the WYSIWYG menu for all Text type Sections. Your SendSites users, when granted access, are able to insert Lead fields from the CRM directly into a SendSites page.

More information about implementing the SendSites / Simpleview CRM Integration
Using the Lead Integration
Before beginning the import of Lead information into a SendSites page Section, ensure the following requirements are met:
The Lead exists in a Meeting Sales User Group.

Lead responses are set to "Pursuing" = Yes.

Requested Room Blocks exist for the Lead.
Inserting Lead Fields
Once your SendSites Page is ready, follow the steps below to insert the Lead's information.
Add Text type section to a new or existing page.

Edit section by clicking into the text body or sub-header.

Place cursor into the desired position of the Lead field data.

Select the 'Insert Simpleview Account Tag' icon.

Choose the appropriate Lead field.
Click Here for a Demonstration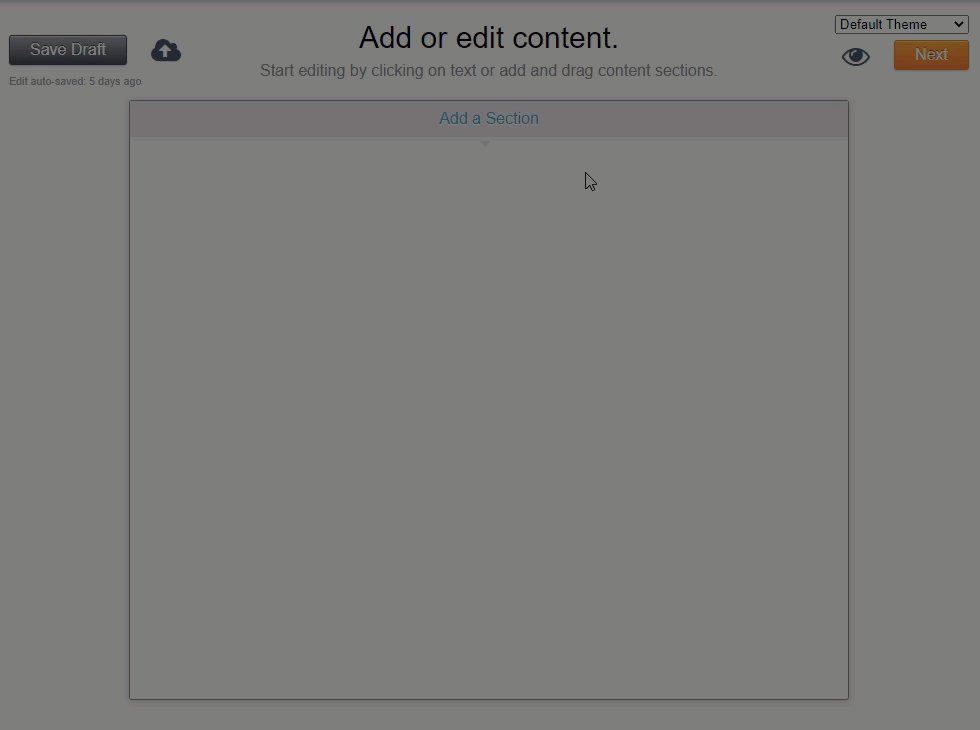 Repeat the above steps for any additional fields.
The field information will not be visible on the editing Page. Instead, the page will display code, indicating the type of data that will be displayed upon sending the Proposal. The example below illustrates this feature.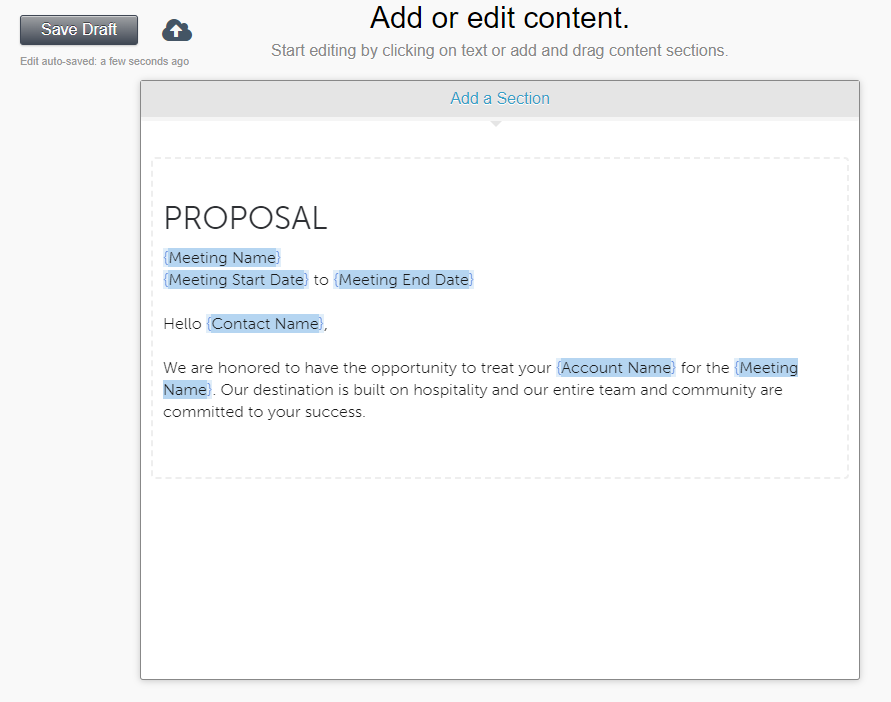 You may preview the page if you want to see how the final proposal will appear. To do so, click the 'Preview' button.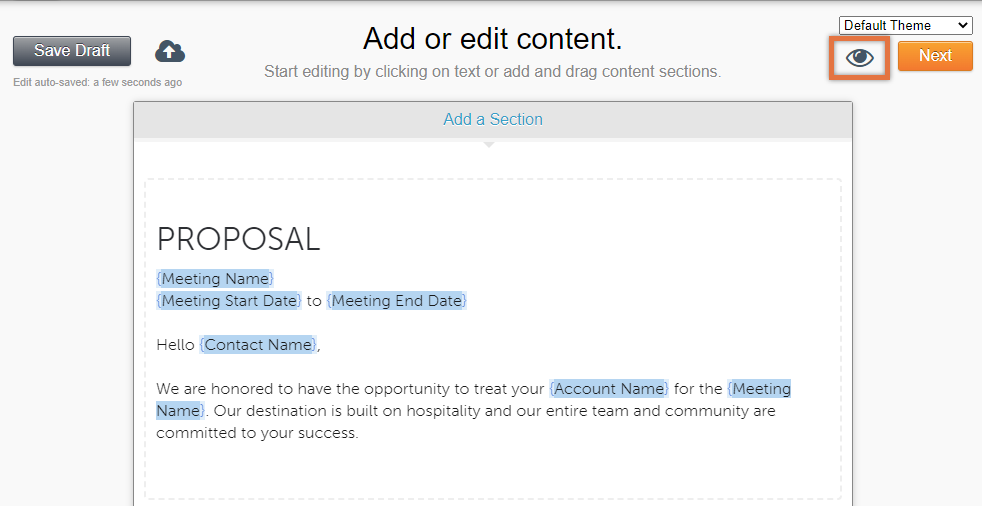 Inserting a Room Block
A Room Block must be pulled into the SendSites page for the Lead integration to work. This is how the system recognizes what Lead to use for the previously selected fields. If you do not want the Room Block to appear within your Proposal Page, you may import the Room Block, then delete it. The Lead Fields will still appear after deletion.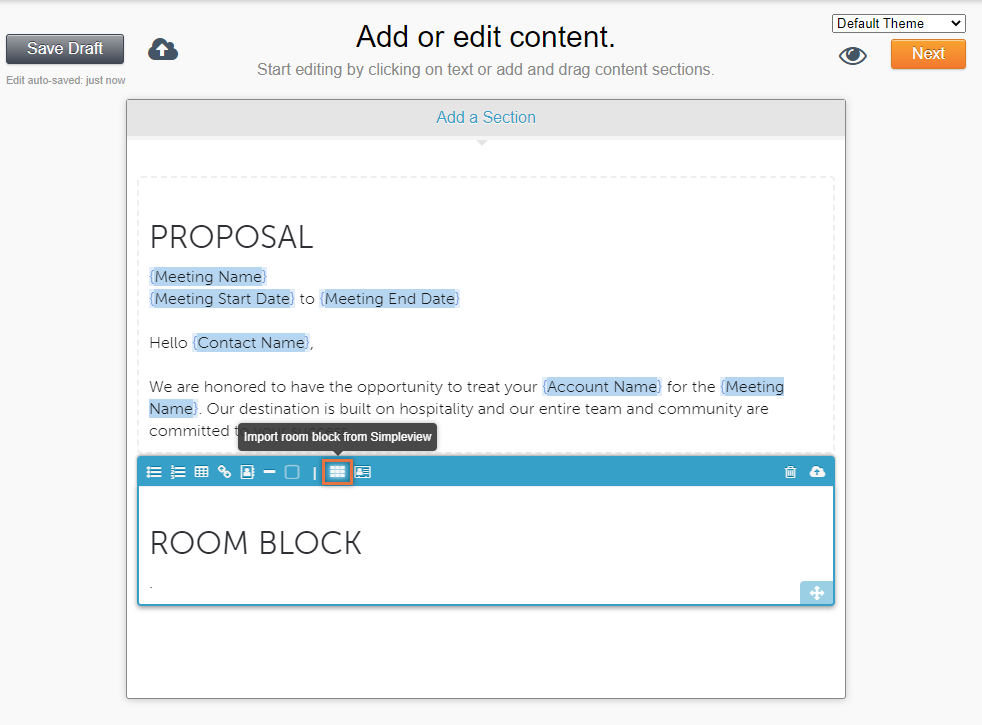 You may insert the Lead's room block into the same section, or you may create a new text section.
Click Here for a Demonstration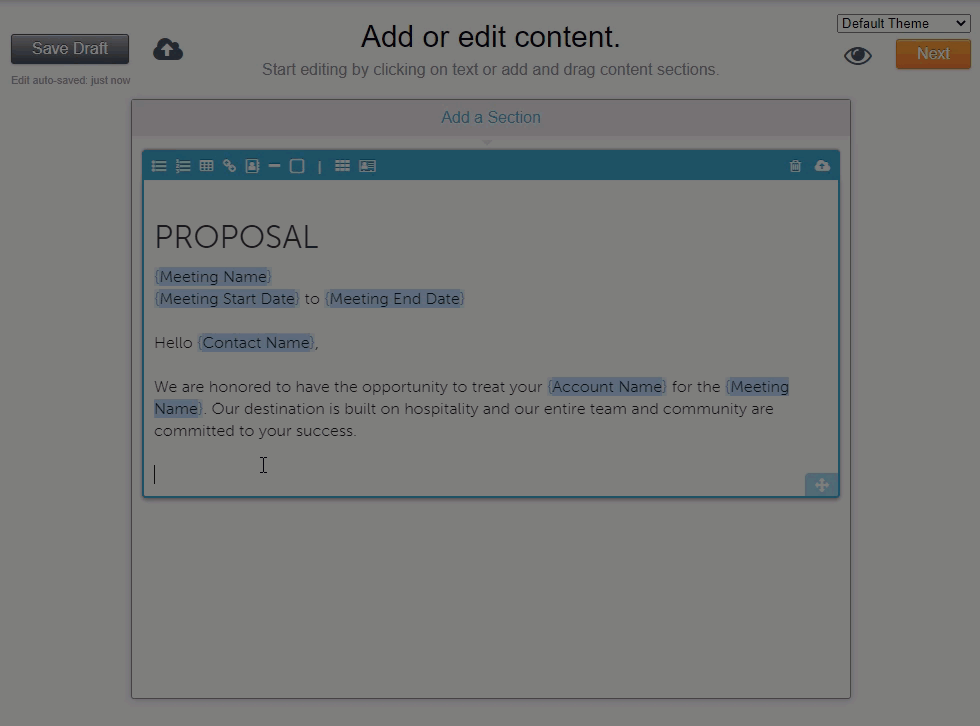 Final Proposal
Once your SendSites Proposal has been sent, it will look similar to the example below.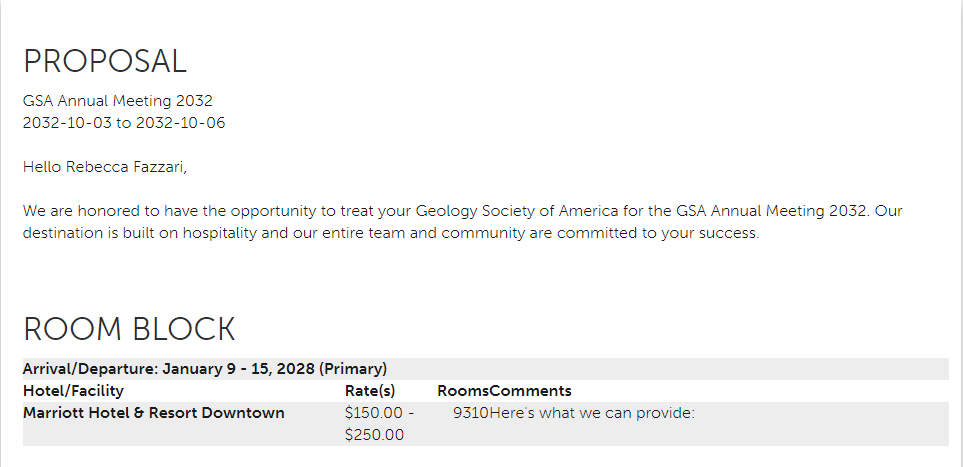 Note
The data will be pulled in exactly as it appears within the CRM and cannot be edited once populated to the Proposal. Be sure to preview your page as you work. If there are any fields that are not formatted the way you want them to be, you will need to manually enter the information in the section.