Defining the Simpleview Room Block Integration
The Room Block Integration provides the ability to import bid responses associated with a Simpleview CRM lead into your SendSites pages.
Once your SendSites platform is integrated with Simpleview CRM, an "Import Room Block from Simpleview" icon displays.
The feature appears within the WYSIWYG menu for all Text type Sections. Your SendSites users, when granted access, are able to retrieve stakeholder responses using a CRM Lead ID.

More information about implementing the SendSites / Simpleview Integration
Using the Room Block Integration
Before beginning the import of bid responses into a SendSites page Section, ensure the following requirements are met:
The Lead exists in a Meeting Sales User Group
Lead responses are set to "Pursuing" = Yes.
Once your SendSites page is ready, follow the steps below to insert the lead's room block information.
Add Text type section to page.
Edit section by clicking into the text body.
Place cursor into the desired position of the Room Block data.
Select the "Import Room Block from Simpleview" icon.
Choose the appropriate room block format (examples are shown below).
Search for Lead by ID.
Click "Apply."



Click Here for a Demonstration
Once it is placed into the section, you may edit the format of the table by clicking into any cell, column or row.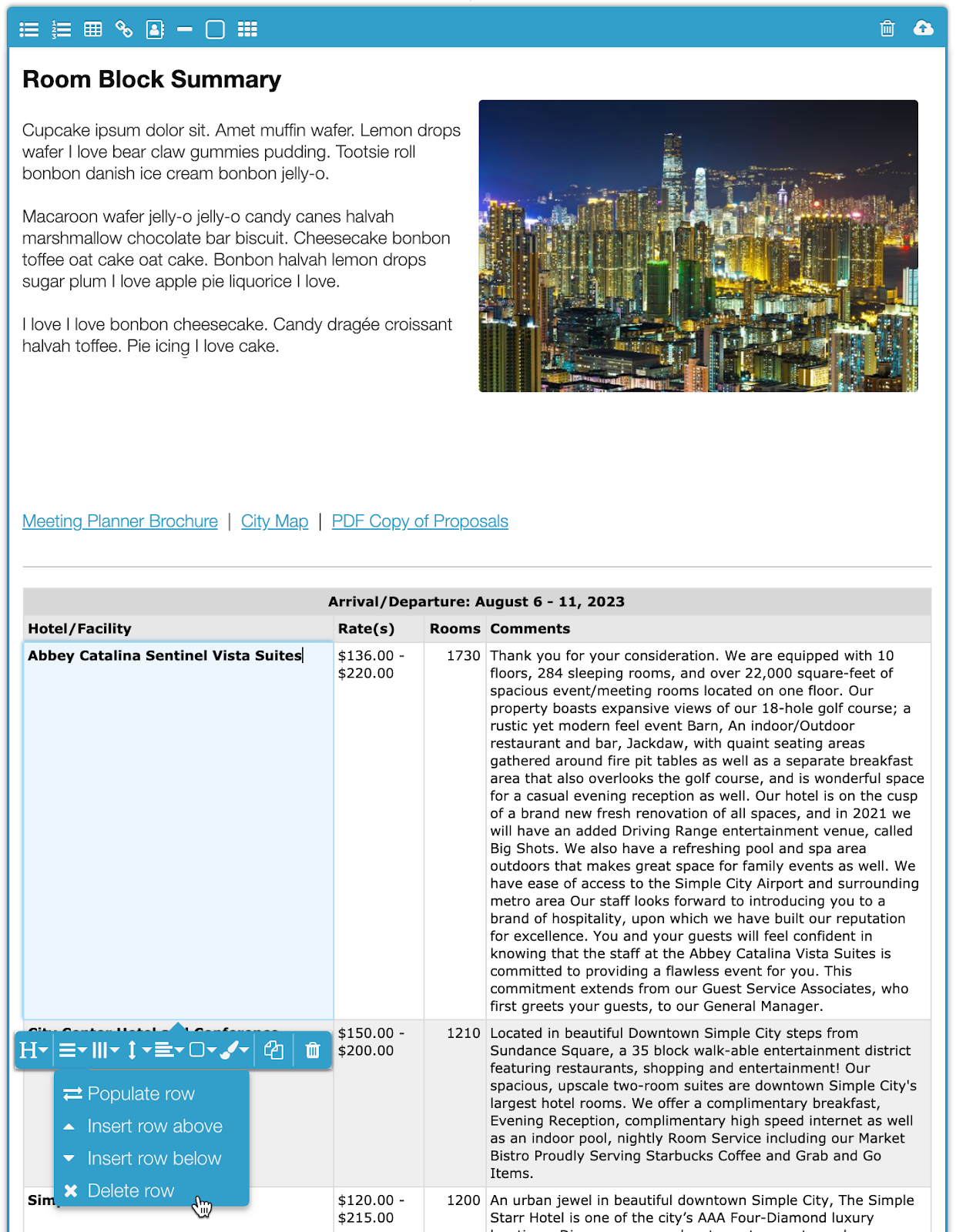 Refer to the "Creating Tables" portion of the the Page Management article for details about modifying a table.
Each type of Room Block is demonstrated below. Each visualization is a 'Text with Image (Right)' with responses from four properties. Please note that the styling on your SendSites page will differ from these examples.
Room Block Detail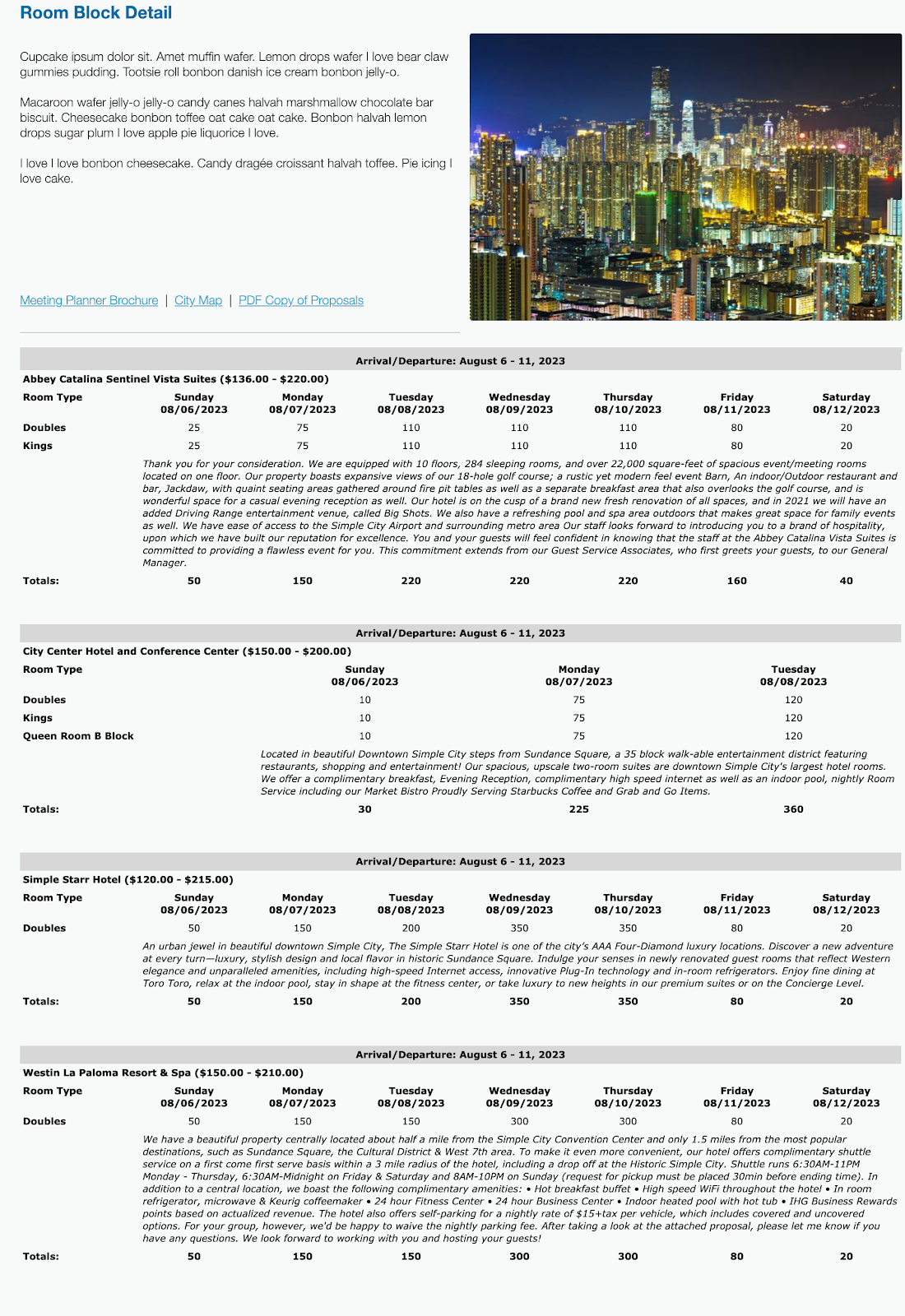 Room Block Summary by Date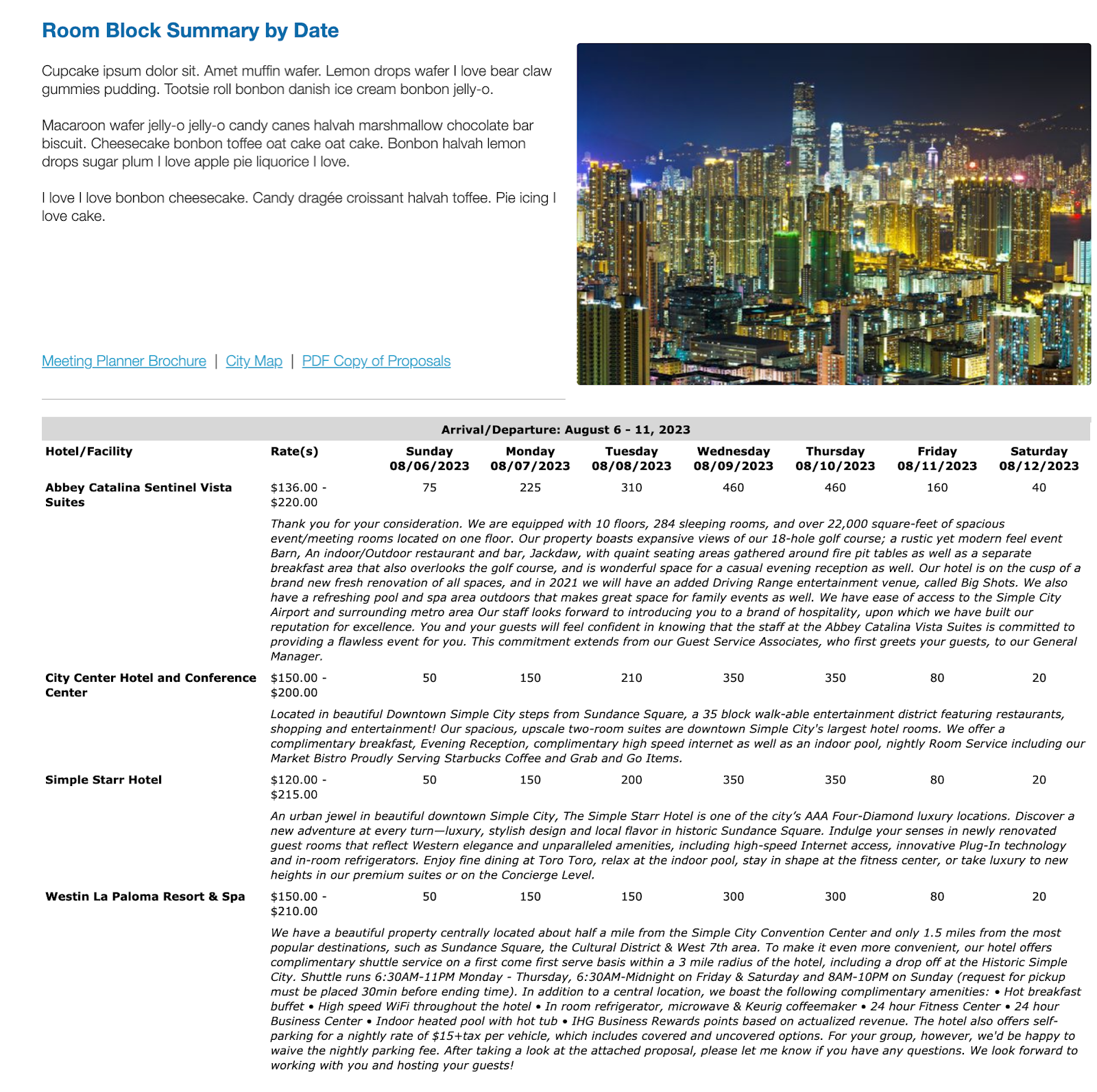 Room Block Summary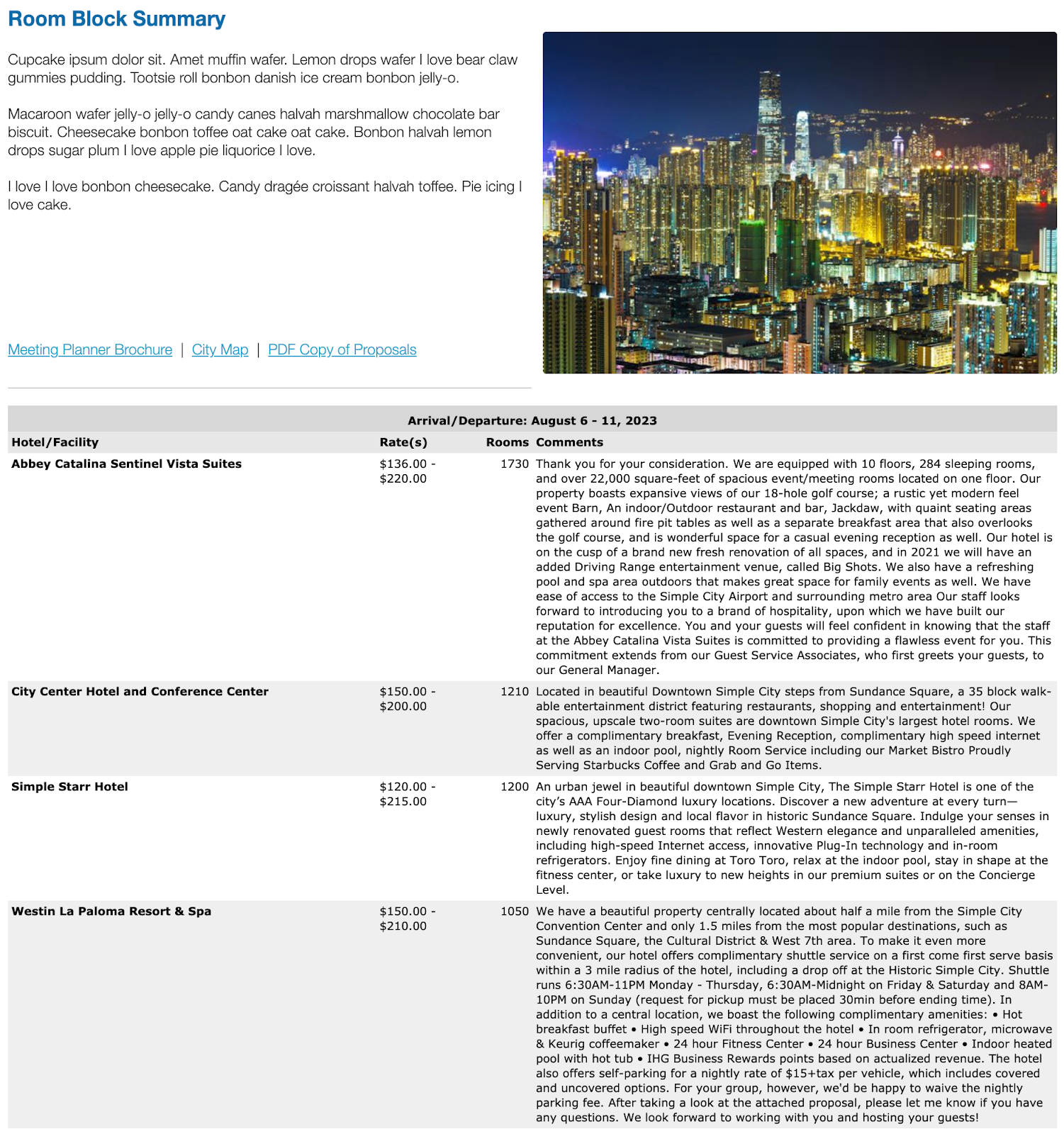 Using Custom Date Responses in a Proposal
As of August 2022, the Room Block Integration allows the use of Lead Custom Date Responses. These responses are automatically included when using the "Import Room Block from Simpleview" feature. However, certain criteria must be met.
The dates for each custom response must span within the Lead's Primary and Alternate Dates. For example, the image below shows a Lead's set of Preferred and Alternate Dates. Any custom date responses falling between October 3, 2022, and October 27, 2022, will pass through to the SendSites Proposal.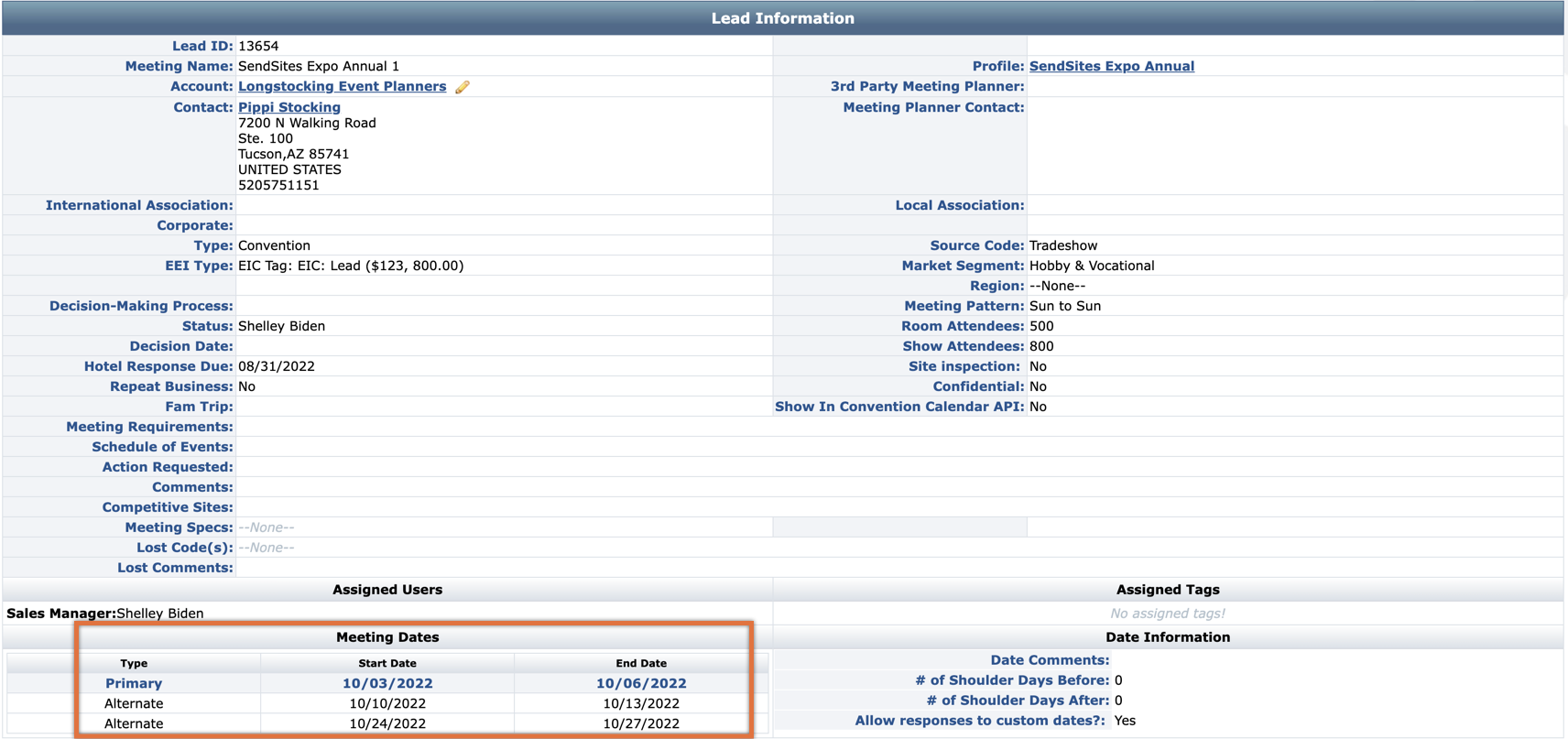 Additional Details About the Integration
Response attachments are not included in the pull of data.
Room Block responses can be imported for all Leads, regardless of status type.
Once placed into the SendSites Proposal, the Room Block information will not refresh with any changes submitted to the Lead responses.
All Room Block data can be edited once it is imported into the SendSites proposal.
Simpleview created the "SendSites Bid Book Data" Report as a tool for working with the Room Block integration. For more information, read the CRM Knowledgebase article.